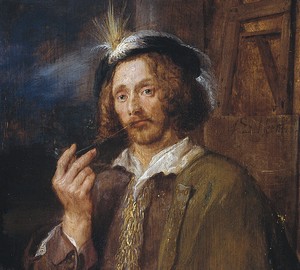 Year of birth: April 17, 1606
Date of death: April 26, 1684
Country: Holland
Locations of the artist's works: Hermitage Louvre Dresden Gallery
Biography:
Jan Davids de Hem was a Dutch master of still life. He was born in Utrecht on April 17, 1606. The young artist's first teacher was his father, David de Hem. After his death, in 1613, Jan studied under the Dutch still life painter Balthasar van der Ast. Between 1625 and 1629, de Haem lived in Leiden, where he also studied under David Bayy. In December 1626 the artist married Aletta van Wede. The couple had three children. Almost nothing is known about the life of the artist between 1631 and 1636, but if we believe some sources, all this time he lived and worked in Amsterdam. The painter soon moved to Antwerp, joined the Guild of Artists in 1636, and was granted citizenship here a year later. According to de Haem himself, one of the reasons for the move was the greater variety and high quality of local fruits and plants that could be captured in a painting. This is where his wife died in 1643. De Haem could not raise three children alone, so a year later he married Anne Catherine Rückers of the harpsichord maker family, to whom he had six children. Subsequently, three of the artist's sons, David, Cornelis and Jan, studied under their father and helped him fulfill his commissions. In addition, the painter had about 10 students who adopted his style and became famous still life painters. In Antwerp the artist was able to show his talent and gain popularity, he was considered one of the best painters of his time. His portrait of William III of Orange was sold for 2,000 guilders and became one of the most expensive paintings of the golden age of Dutch painting. The artist himself barely had time to fulfill orders, so he worked with his sons: they painted the pictures, he corrected them and signed them. The key to success de Ham was an extraordinary sensitivity to changes in fashion and customer demands, as well as the creative flexibility and desire to experiment and try his hand at different genres: he wrote still lifes, portraits and even landscapes. If initially in his works there was a strong influence of teachers, then later the artist was able to develop his own unique style. De Haem's work is characterized by a skilful construction of the composition, the choice of colors and the detail of the image. The painter painted a great variety of flowers and fruits, but his most famous works belong to the genre of so-called luxurious still life, which was popular in the 1640s, that is, a still life with a rich dinner table full of food and various decorations. This genre caught de Haem's eye after he moved to Antwerp, and this can be seen in the higher quality of the paintings and the variety of subjects. The painter's work belongs to the Baroque movement. Over time, de Haem became a devotee of the vanitas genre (Latin for vanity, vanity), and symbols of the frailty of life appeared in his still-life paintings: luxury objects, for example, symbolized vanity, while a crucifix surrounded by a wreath symbolized death. In such paintings, the central subject was often a skull lying amidst flowering vegetation. In 1667 de Haem returned to his homeland, but escaped four years later when the city was attacked by French troops. He lived in Antwerp until his death. The artist is buried in the local church of St. Paul, as is his son Cornelis. De Haem's works are still popular today, many of them are in major art galleries around the world – you can see two of his still lifes with bouquets in a vase in the Hermitage. Despite such a rich heritage (more than 100 works), the time of creation is known only for 18 paintings – the artist indicated the date only if he was sure that the work is worthy.
Paintings by Jan Davids de Haem
Flowers In A Vase