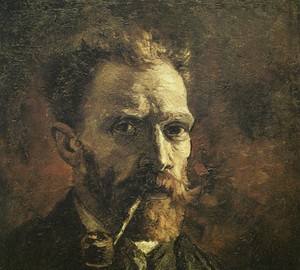 Year of birth: March 30, 1853
Date of death: July 29, 1890
Country: Holland
Locations of the artist's works: The Metropolitan Museum of Art Pushkin Hermitage Museum d'Orsay Museum of Modern Art (New York)
Biography:
Vincent van Gogh was born in Groot-Zundert, Holland, on March 30, 1853. Van Gogh was the first child of the family (not counting his dead brother). His father's name was Theodore Van Gogh and his mother's name was Carnelia. They had a large family: two sons and three daughters. In the Van Gogh family, all the men, in one way or another dealt with paintings, or served the church. Already by 1869, not even finishing school, he began working in a firm that sold paintings. Truth be told, Van Gogh was not good at selling paintings, but he had a boundless love of painting, and he was also good at languages. In 1873, at the age of 20, he went to London, where he spent two years that changed his whole life. Van Gogh lived quite well in London. He had a very good salary, enough to visit various art galleries and museums. He even bought himself a hat, indispensable in London. It all seemed destined to become a successful salesman, but… as is often the case, it was love, and yes, love, that got in the way of Van Gogh's career. Van Gogh had fallen madly in love with his landlady's daughter, but when he discovered that she was already engaged, he became withdrawn and indifferent to his work. When he returned to Paris he was fired. In 1877 Van Gogh began to live in Holland again, and increasingly found solace in religion. After moving to Amsterdam, he began studying to become a priest, but soon dropped out because the environment at the faculty did not suit him. In 1886, in early March, Van Gogh moved to Paris with his brother Theo and lived with him in an apartment. There he takes painting lessons with Fernand Cormon and meets such personalities as Pissarro, Gauguin and many other artists. Very quickly he forgets all the gloom of Dutch life, and quickly gains respect as an artist. He draws clearly, vividly in the style of Impressionism and Post-Impressionism. Vincent Van Gogh, after spending 3 months in an evangelical school located in Brussels, became a preacher. He distributed money and clothes to the needy poor, even though he himself was not well off. This aroused the suspicion of the church authorities, and his activities were prohibited. He was not discouraged, and found solace in painting. By the age of 27, Van Gogh had realized his true calling in life and decided he had to become an artist by all means. Although Van Gogh took art classes, it's safe to say he was self-taught because he studied many books and tutorials and sketched drawings by famous artists. At first he thought of becoming an illustrator, but then, when he took lessons from his painter relative, Anton Mouve, he painted his first works in oil. Life seemed to begin to get better, but once again Van Gogh began to be haunted by failures, and love failures at that. His cousin Kea Vos became a widow. He was very fond of her, but he received a rejection which he endured for a long time. In addition, because of Kea, he had a very serious quarrel with his father. This quarrel caused Vincent to move to The Hague. It was there that he met Clasina Maria Hoornick, a girl of easy virtue. Van Gogh lived with her for almost a year and on a number of occasions had to be treated for venereal diseases. He wanted to save this poor woman, and even thought of marrying her. But then his family intervened, and thoughts of marriage were simply dispelled. When he returned home to his parents, who had by then moved to Nyonen, his skills began to improve. He spent two years in his homeland. In 1885 Vincent settled in Antwerp where he attended classes at the Academy of Arts. Then, in 1886, Van Gogh returned to Paris again with his brother Theo, who would spend the rest of his life helping him both morally and financially. France became Van Gogh's second home. It was there that he spent the rest of his life. He never felt like a stranger here. Van Gogh drank heavily and had a very explosive temper. He was what you might call a difficult man to deal with. In 1888 he moved to Arles. The local people were not happy to see him in their town, which was situated in the south of France. In spite of this Vincent found friends there and felt quite well. The idea of establishing an artists' settlement in the area eventually occurred to him and he shared it with his friend Gauguin. Everything was going well, but there was a rift between the artists. After spending 2 weeks in a psychiatric clinic he returned there again in 1889, as he began to be tormented by hallucinations. In May of 1890 he finally left the asylum for the mentally ill and went to Paris to join his brother Theo and his wife, who had just given birth to a boy, named Vincent after his uncle. Life began to improve and Van Gogh was even happy, but his illness returned. On 27 July 1890 Vincent van Gogh died in the arms of his brother Theo, who was very fond of him. Theo died six months later. The brothers are buried in the Auvers Cemetery next door.
Paintings by Vincent van Gogh and their descriptions
Potato Eaters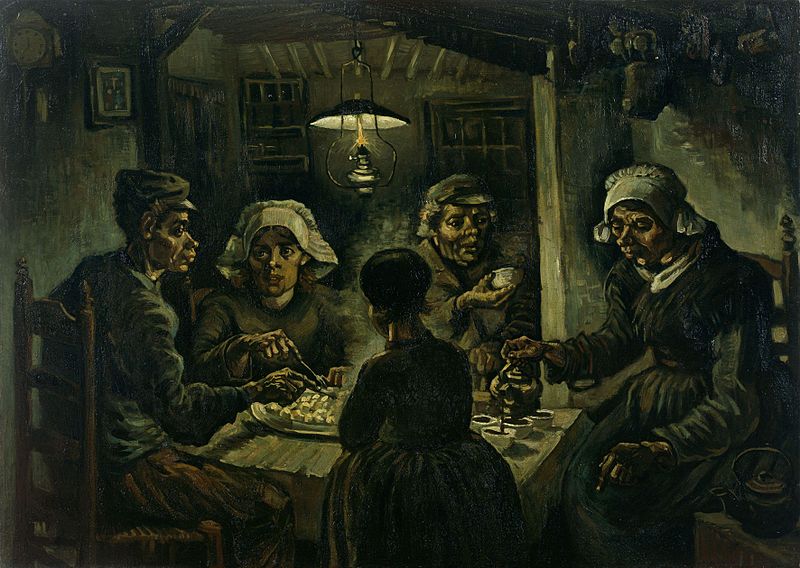 Portrait Of Dr. Gachet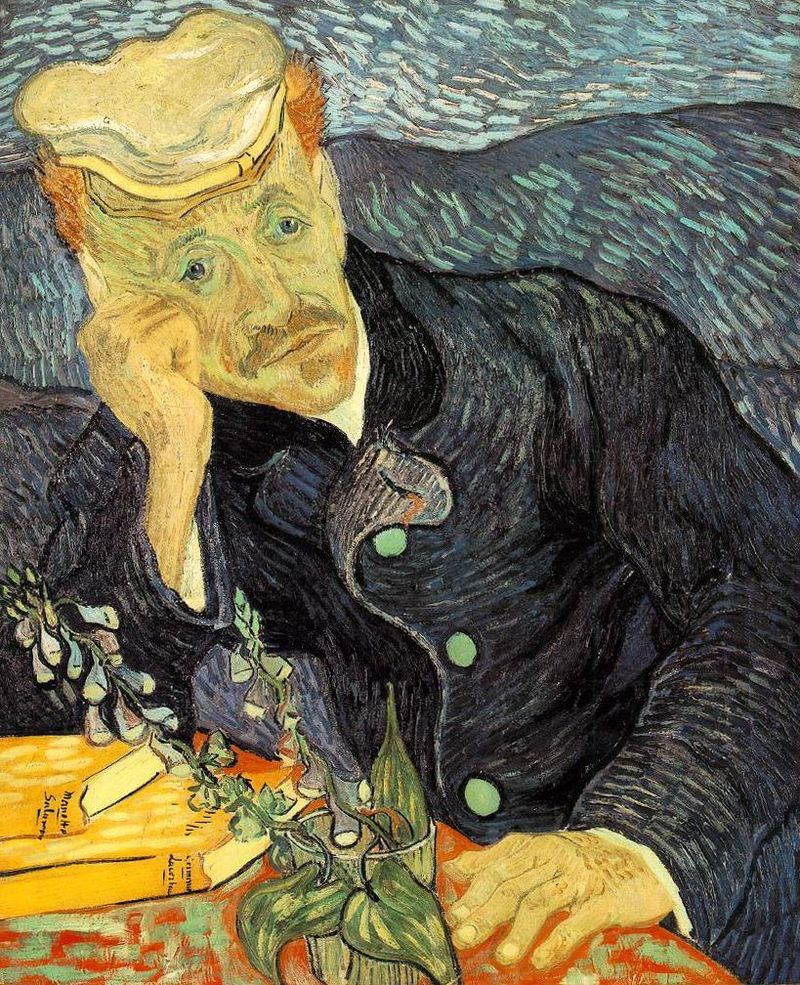 Cypresses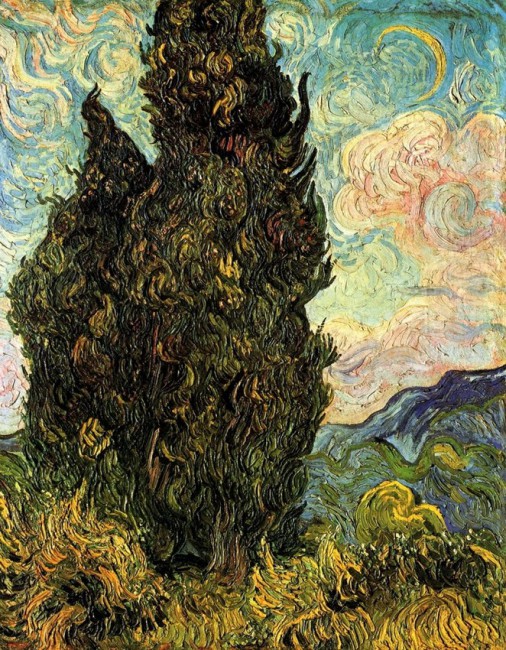 Cafe Night Terrace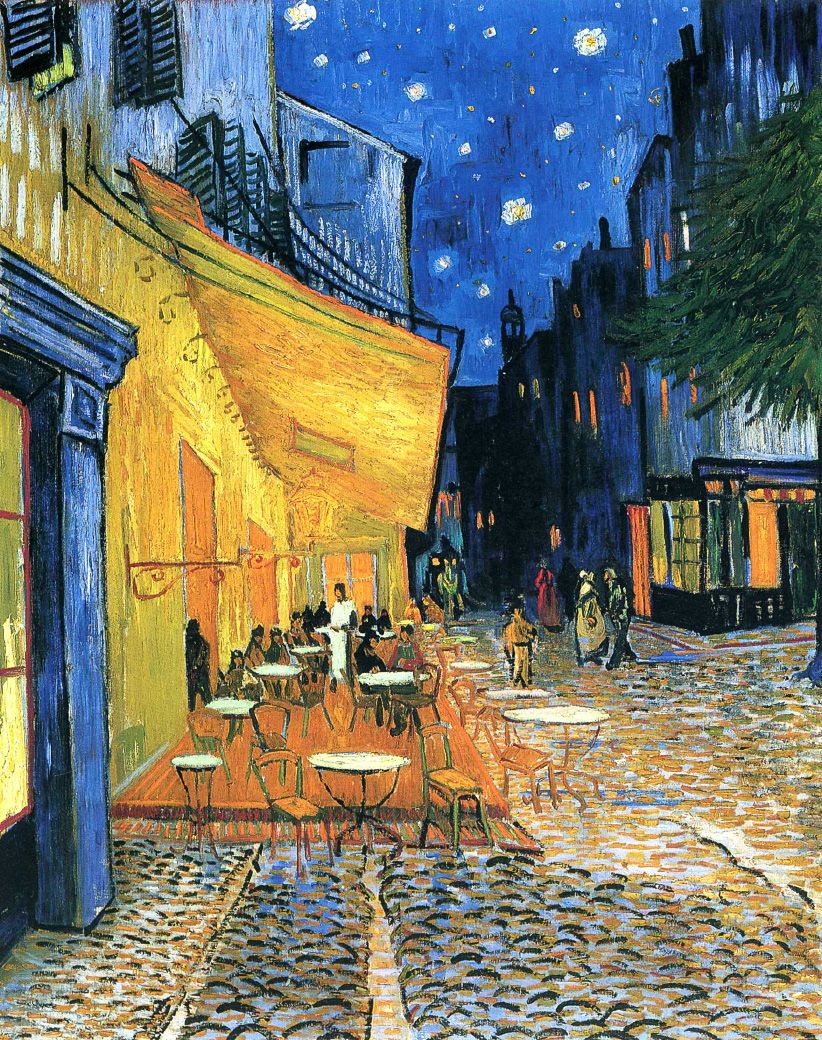 Night Cafe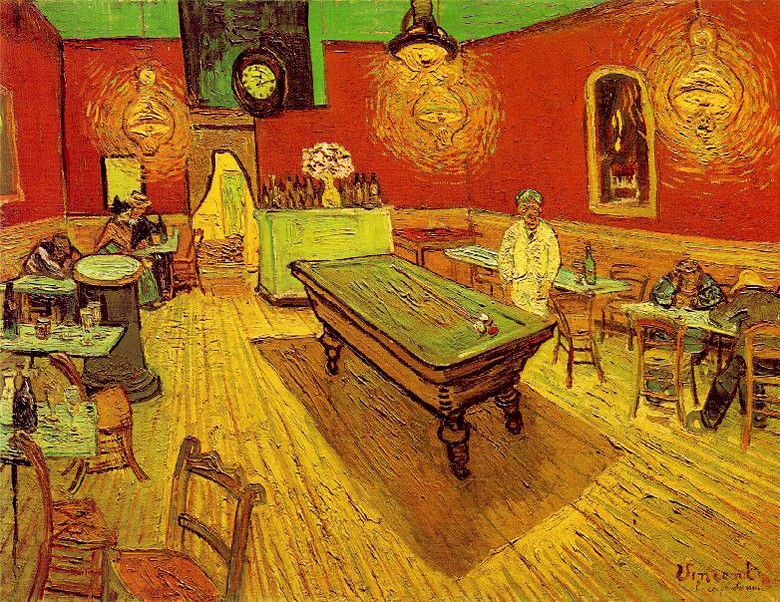 Sunflowers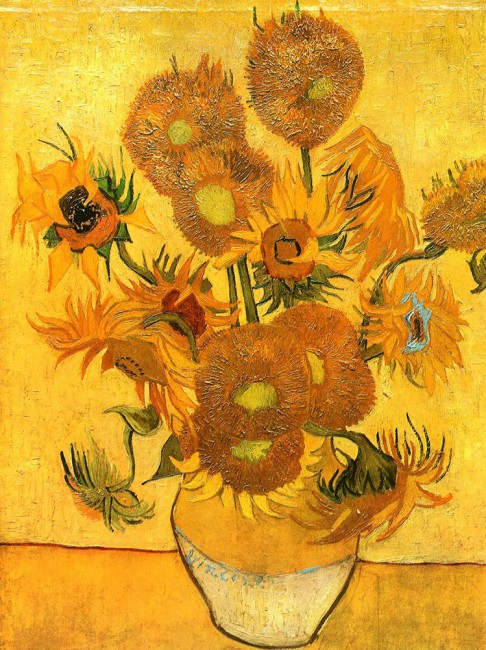 Prisoner Walk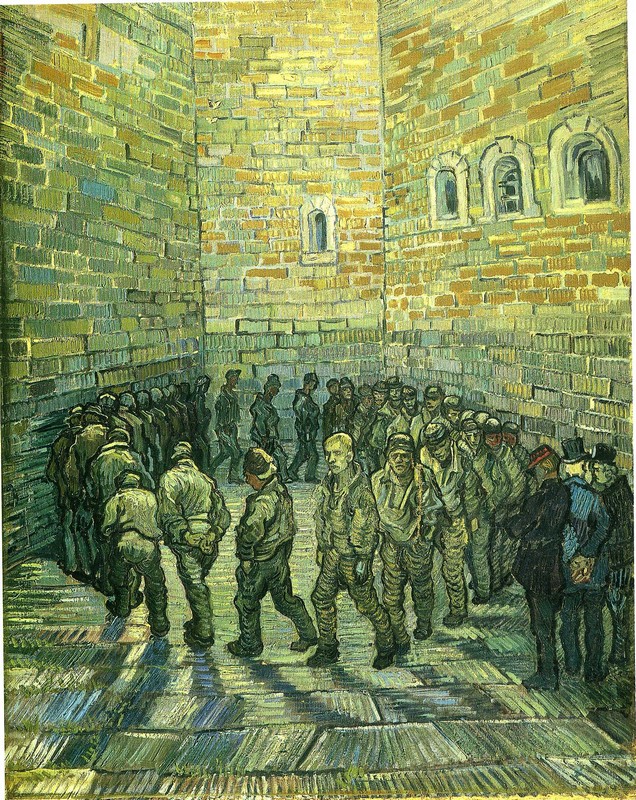 Pink Roses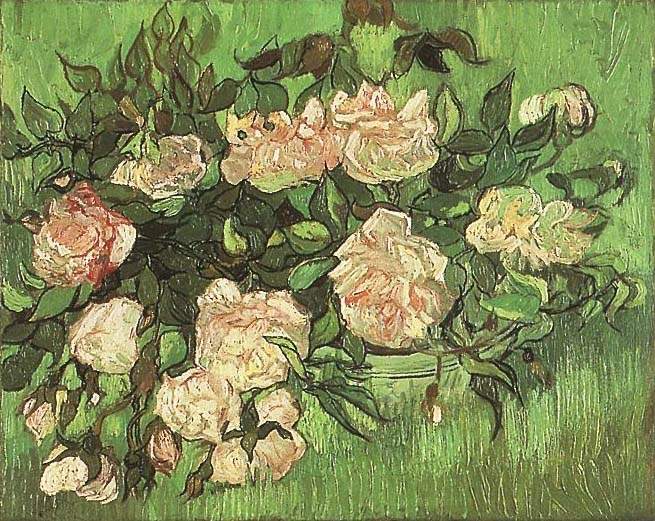 Bedroom In Arles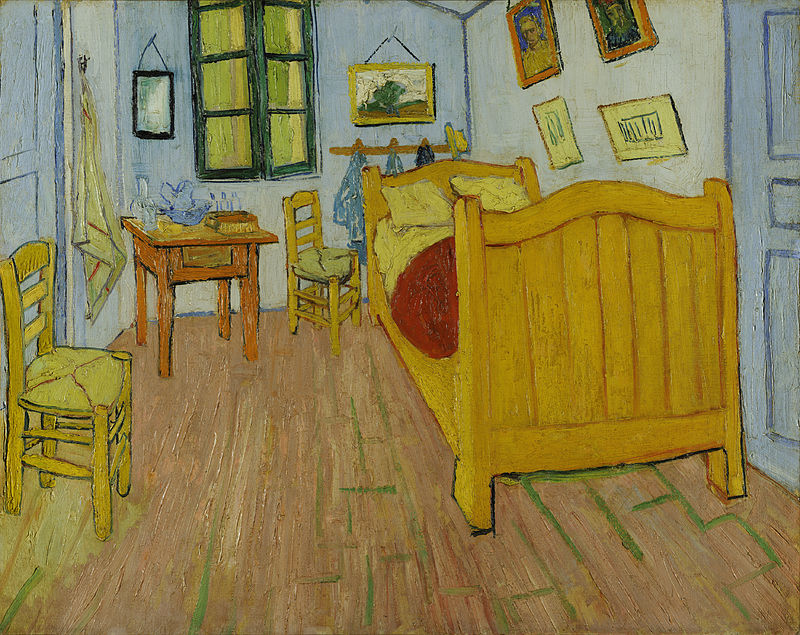 Green Wheat Field With Cypress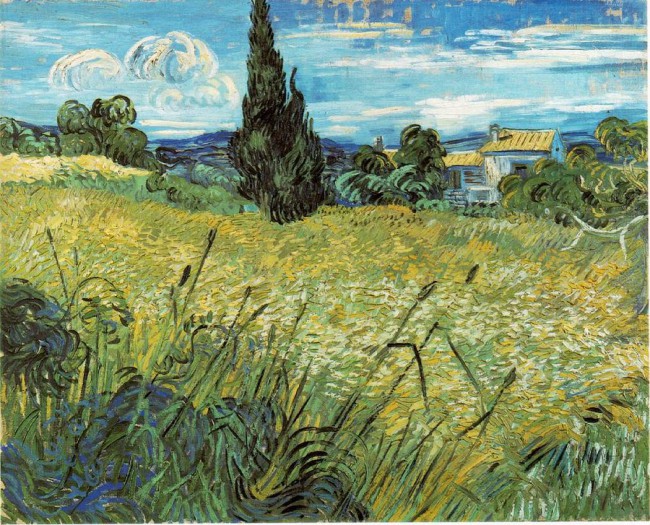 Starry Night