Glen Wolfgramm was born in Auckland in 1971. Of Tongan and Irish descent, he is self-taught, his paintings conveying echoes of both the Pacific, and some space-age, futuristic world existing now only in our imaginations, nurtured by the world of sci fi movies. Wolfgramm has been exhibiting since 1998, was a finalist in the Wallace Art Awards in 2000 and was selected to represent New Zealand at the 2000 Biennale d'Art Contemporain in Noumea, alongside Michael Parekowhai and Lisa Reihana.
'Wolfgramm views every painting as "a chapter, a verse, a voice that is passing the experience of my forebears to me and through me and on, out into the wide world"; like emissaries, Wolfgramm's paintings themselves migrate, voyaging out into the world and carrying their stories with them.' (Orex Gallery website, 2011)
The paintings that are still available are marked as such in the title.  For enquiries, please contact Rex at Orexart – link below.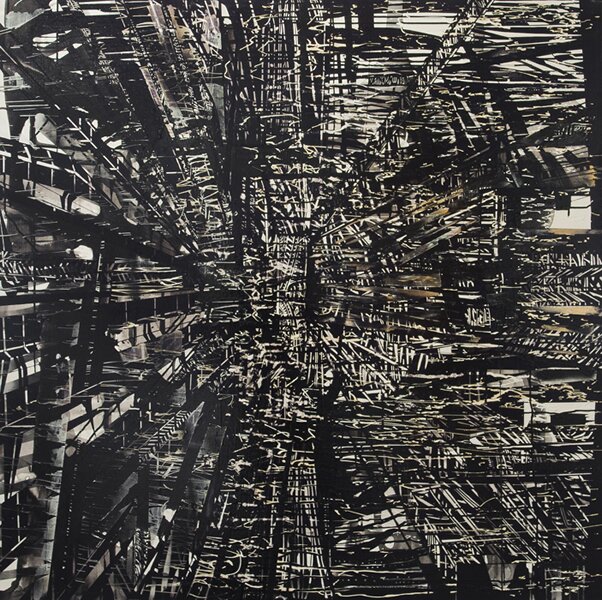 GALLERY
Orex Gallery, Auckland
BIBLIOGRAPHY
TJ McNamara, Auckland's Brand of art Flourishing, NZ Herald, B/5 26/07/07 with photograph, 2007
Art New Zealand Today, ed. Liz Caughey, Saint Publishing, Auckland, 2002
TJ McNamara, Critics Choice, NZHerald, B/12 30/10/00, 2000
Peter Simpson, Revue, Sunday Star Times, F4, 19/3/00, 2000
Aotearoa Pasifika: Three New Zealand Artists, Professor Peter Simpson, State of the Arts (Australia/New Zealand) Feb/March 2000
'The Promoter: Something New Something Spiky', Ken Cooke, Art New Zealand No. 93 Summer 1999/00
T.J. McNamara, Weekend Books & Art, NZHerald, H7 9-10/5/98
Auckland Aesthetics, Andrew Frost, Australian Art Collector, No.6, 1998