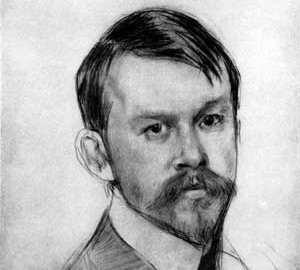 Year of birth: March 7, 1878
Date of death: May 28, 1927
Country: Russia
Locations of the artist's works: Russian Museum Tretyakov Gallery
Biography:
The artistic talent of Boris Mikhailovich Kustodiev, the world-renowned representative of Russian painting of the last century, gave us a nostalgic world, sunny and joyful, emphasizing with bright colors the feeling of celebration. As a pupil of Ilya Repin, Kustodiev not only inherited Repin's manner and style, but also introduced a play of colors inherent only in him, which willy-nilly charges with positivity and happiness. It is worth noting that the formation of Boris Mikhailovich as an artist began long before he met his teacher, as evidenced by his work, imbued with echoes of childhood attachments and experiences. Kustodiev was born into the family of a seminary teacher in 1878 in Astrakhan. Fate had arranged things in such a way that Boris's father died when the boy was a little over a year old, and the entire responsibility for the upbringing of the child fell on the fragile shoulders of his mother – a 25-year-old widow with four children in her arms. Despite very modest means, the family lived together, and a mother's love brightened up the difficulties of life, allowing the creative personality to form. It was his mother, Catherine Prokhorovna, who fostered her children's love of high art – theater, literature and painting. This upbringing clearly defined the future of Boris, and already at the age of 9, he knew that he would become an artist. In 1892, having entered the Astrakhan Theological Seminary, Kustodiev simultaneously began to take lessons from the local painter A. P. Vlasov. With Vlasov's blessing, in 1896, Kustodiev became a student at the St. Petersburg Academy of Arts and, after two years, was accepted into the studio of Ilya Repin. The great artist immediately drew the student's attention and had high hopes for him, which later led to joint work on a monumental canvas – The Solemn Session of the State Council on May 7, 1901. The result of such a successful start was the defense of his diploma work with a gold medal and an internship abroad. On his journey to Europe, the artist went with his young family, his newly born son and his young wife – Yulia Evstafyevna Proshinskaya. Subsequently, in 1905, paying tribute to the fateful meeting with his love, Kustodiev built a house-workshop "Terem" near the city of Kineshma, on the Volga. "Terem" became the place of the artist's work and creativity and here, almost every summer, Boris Mikhailovich was embraced by a feeling, which is commonly called happiness, inspiring him to create and realize the fullness of life. His beloved wife, who has become a faithful assistant, his son and daughter, in the unbreakable concept of family are reflected in the works of the artist and became a separate large theme in his paintings (the painting "Morning"). A year earlier, in 1904, the artist spent several months abroad, in Paris and Madrid, visiting exhibitions and museums. His homeland called Boris Mikhailovich to Russia and, returning home, Kustodiev plunged into the world of journalism, cooperating with the satirical magazines Zhupel and Infernal Mail. Thus, the first Russian revolution prompted him to try his hand at cartoons and caricatures of government officials. 1907 was an eventful year: a trip to Italy, a passion for sculpture, membership in the Union of Artists. And in 1908, the world of theater opens for Kustodiev – he works as a decorator at the Mariinsky. Boris's popularity was growing and his fame as a portrait painter led to the famous work of Nicholas II in 1915, but long before that, in 1909, disaster struck the artist's family – the first signs of a spinal cord tumor appeared. Despite this, he continues to actively travel to Europe, receives the title of academician of painting in the same year. After visiting Austria, Italy, France and Germany, Kustodiev goes to Switzerland, where he undergoes treatment. Later in Berlin in 1913 he undergoes a complicated surgery. The illness seems to have receded and 1914 is marked by exhibitions at the Berngheim Gallery in Paris and International Art Exhibitions in Venice and Rome. In 1916 Kustodiev undergoes a repeated operation in St. Petersburg, resulting in paralysis of his lower body and amputation of his legs. Since then the artist's whole world is his room, his memory and his imagination. It is during this period that he paints his most vivid and festive paintings, depicting provincial life ("Merchant's Woman at Tea", "Rural Holiday") and the beauty of the body ("Beauty"). But this joie de vivre and optimism are unable to overcome the illness, which, as it progresses, allows the artist to hold a single lifetime exhibition of his own works in 1920 at the Petrograd House of Art. The last milestones of his life are marked by the design of the play "Flea" and participation in the International Exhibition in Paris. In 1927, May 26, at the age of 49, Boris Mikhailovich died while working on a sketch for his planned triptych "The Joy of Labor and Rest. Thus ended the difficult, but full of light and joyful notes life of the famous artist, who left us a legacy of great paintings, demonstrating a thirst for life and knowledge.
Paintings by Boris Mikhailovich Kustodiev
Balagans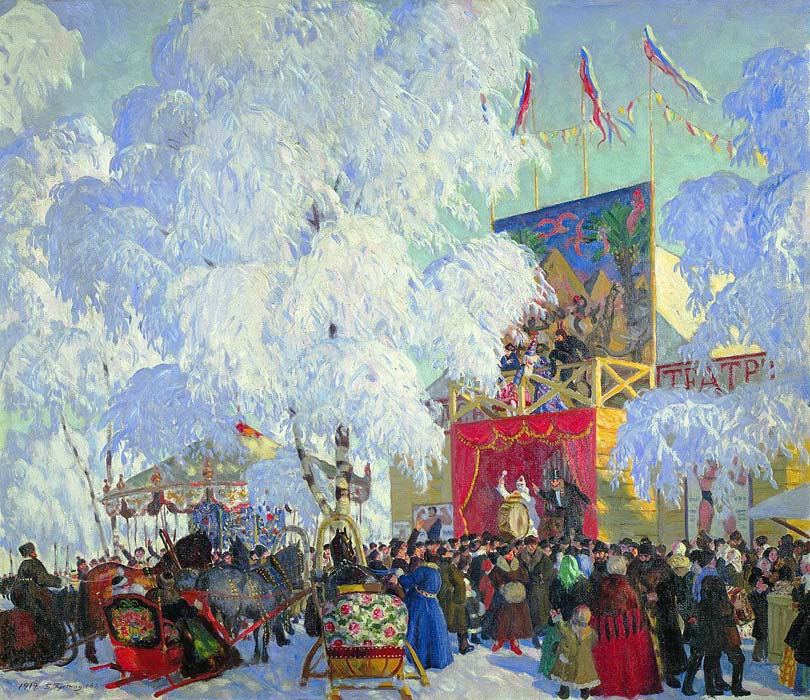 Portrait Of Ivan Bilibin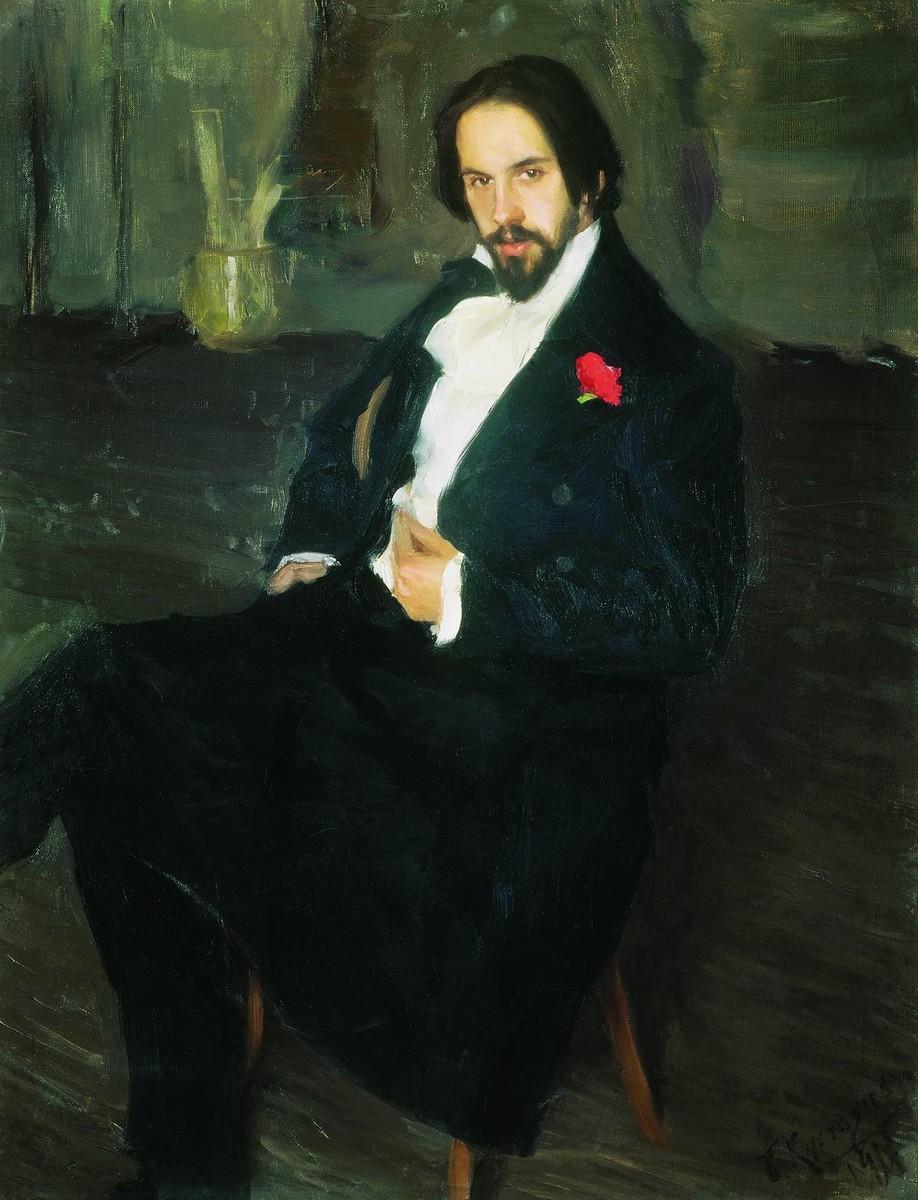 A Village Festival

Blue House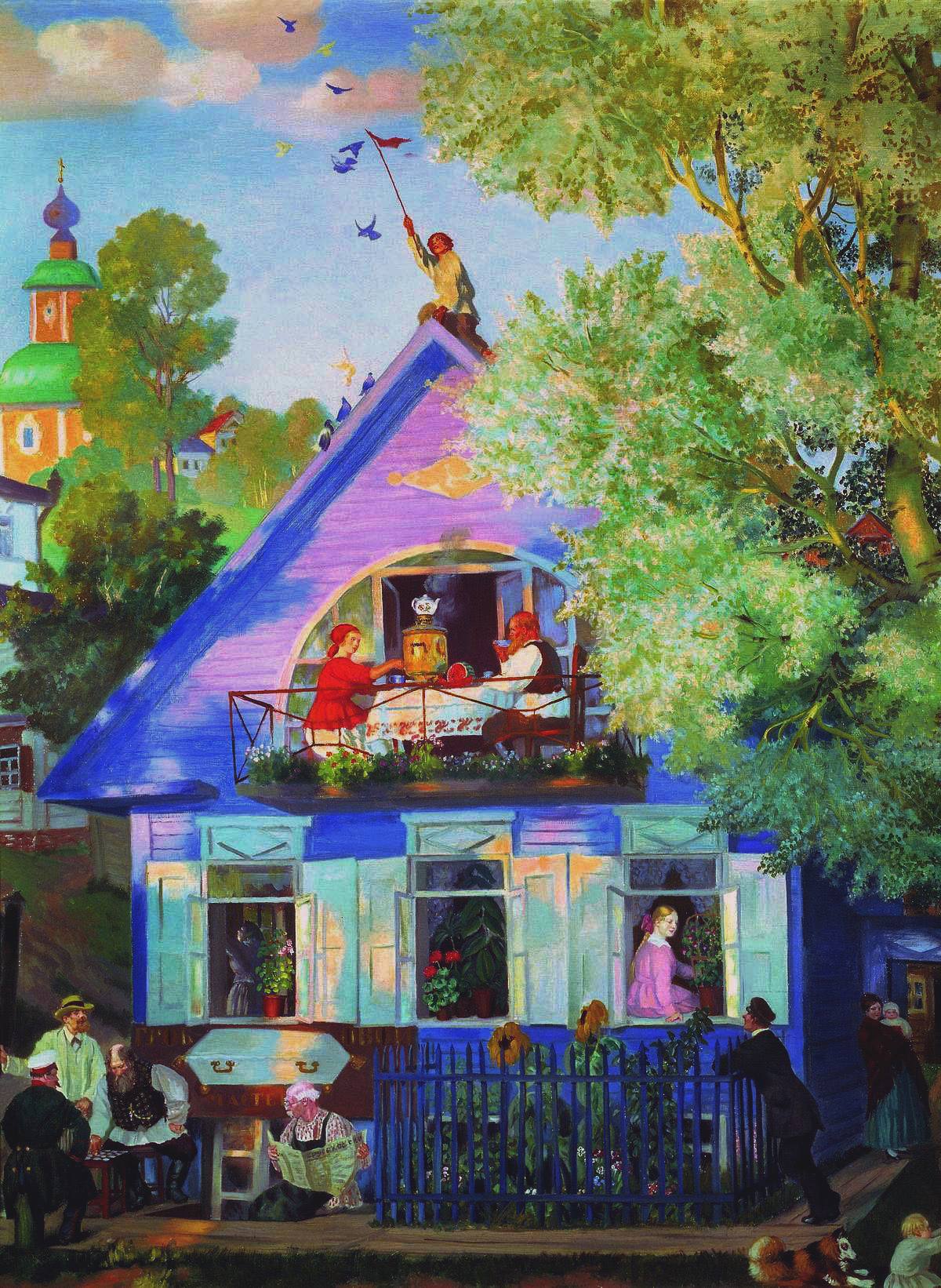 Apple Orchard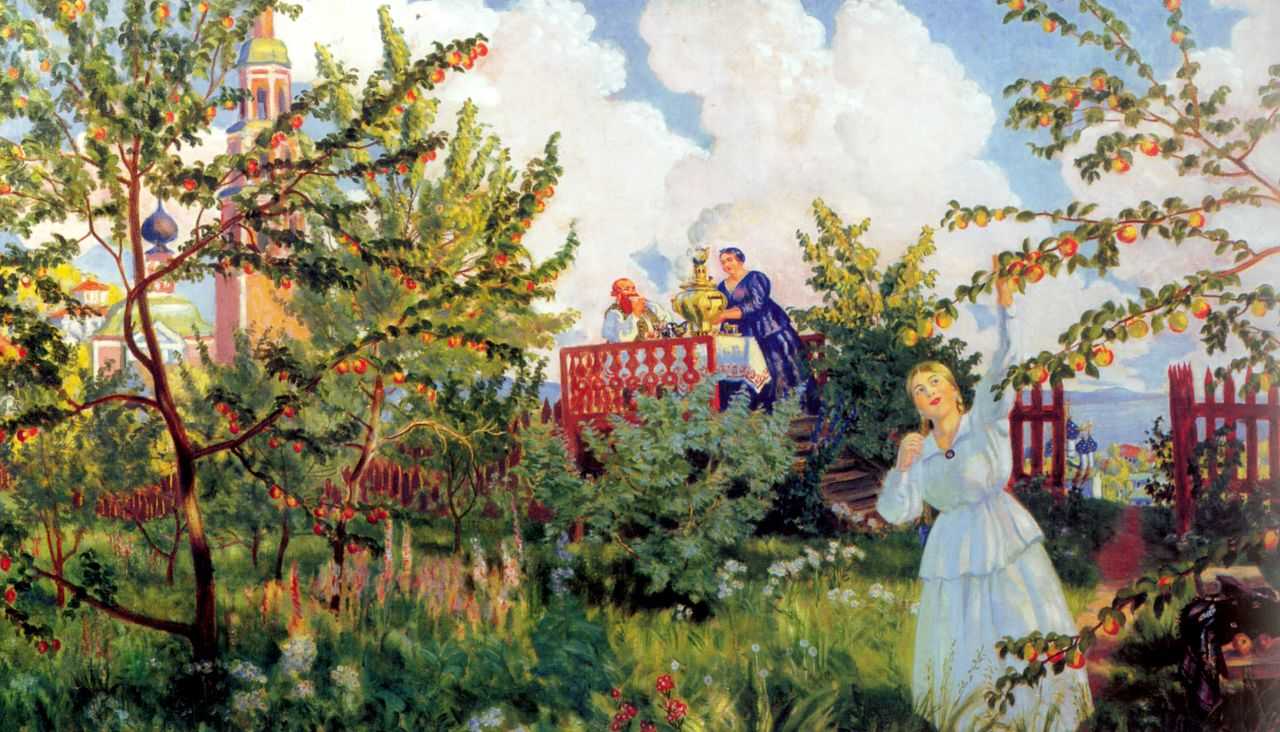 Fair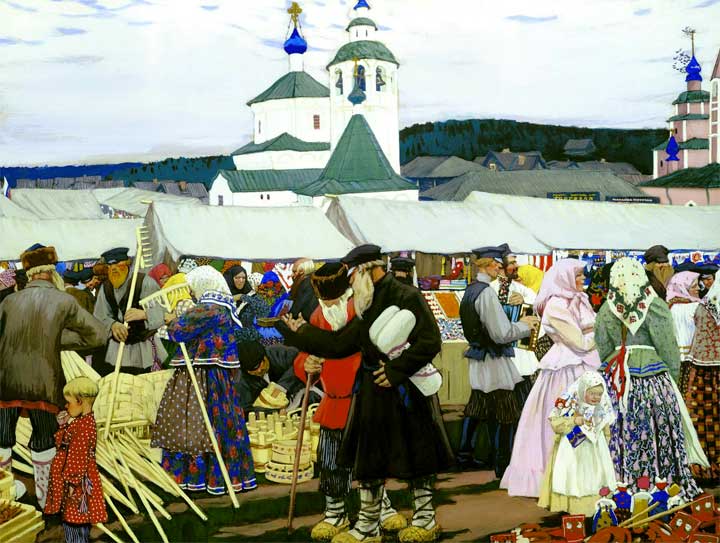 Portrait Of A Woman In Blue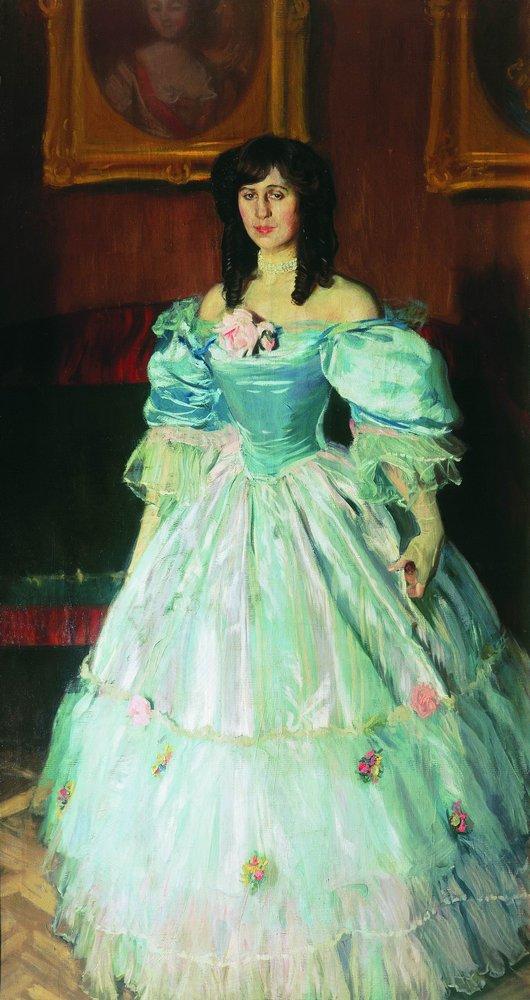 Beautiful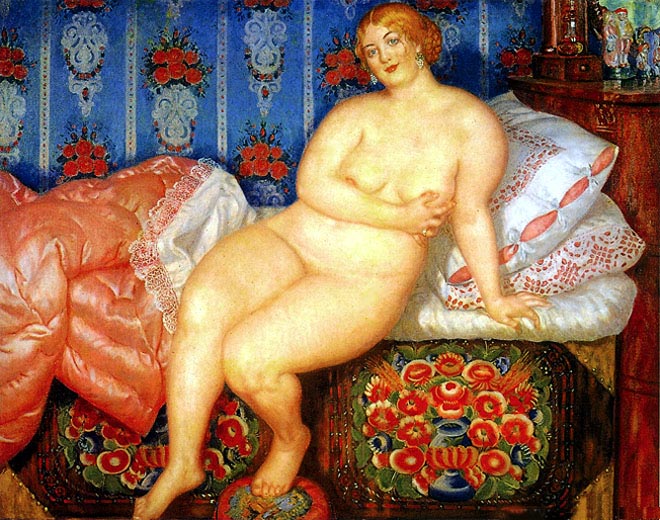 Bathing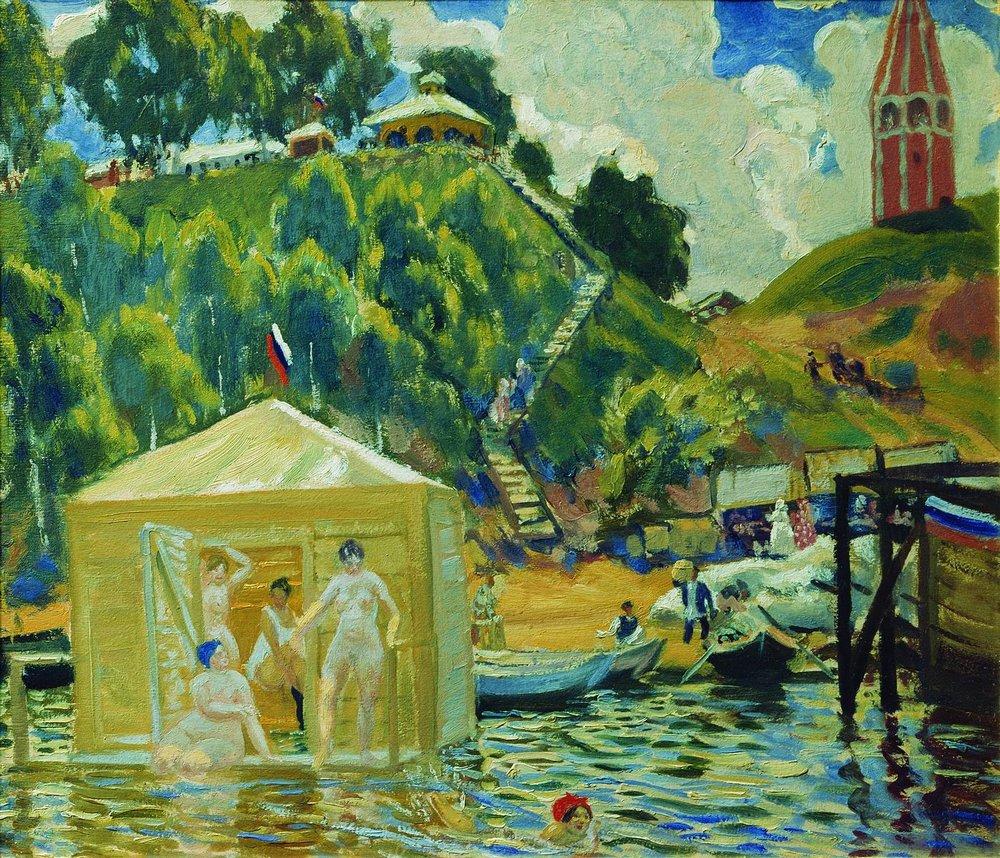 The Merchant'S Wife And The House Spirit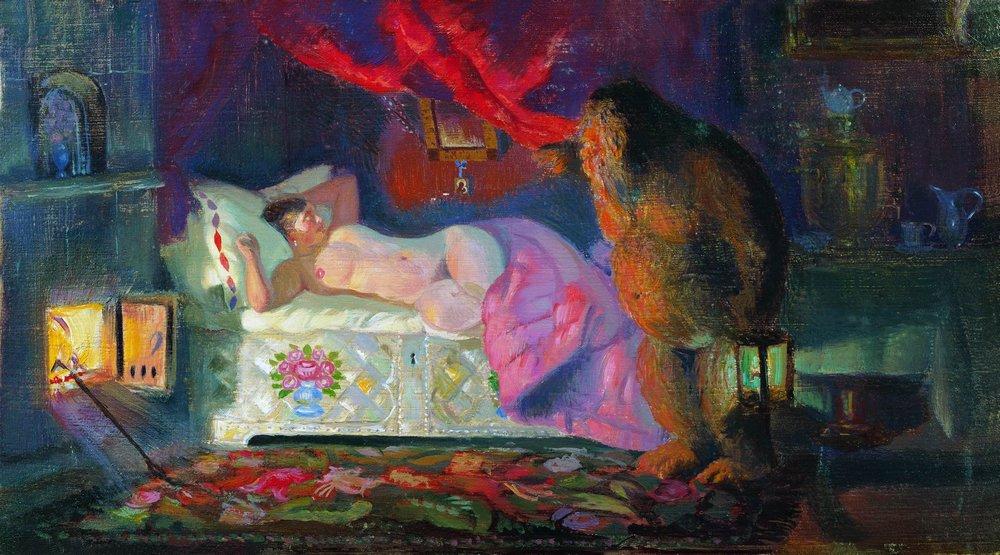 Merchant'S Woman At Tea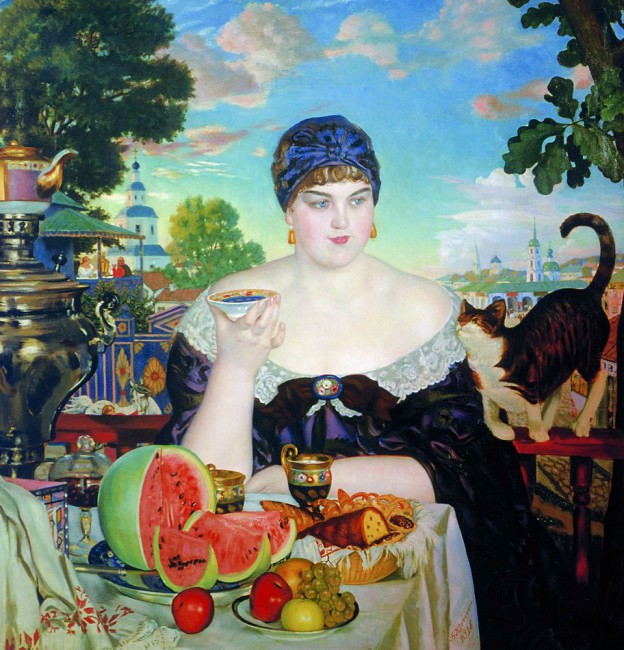 Merchant With A Mirror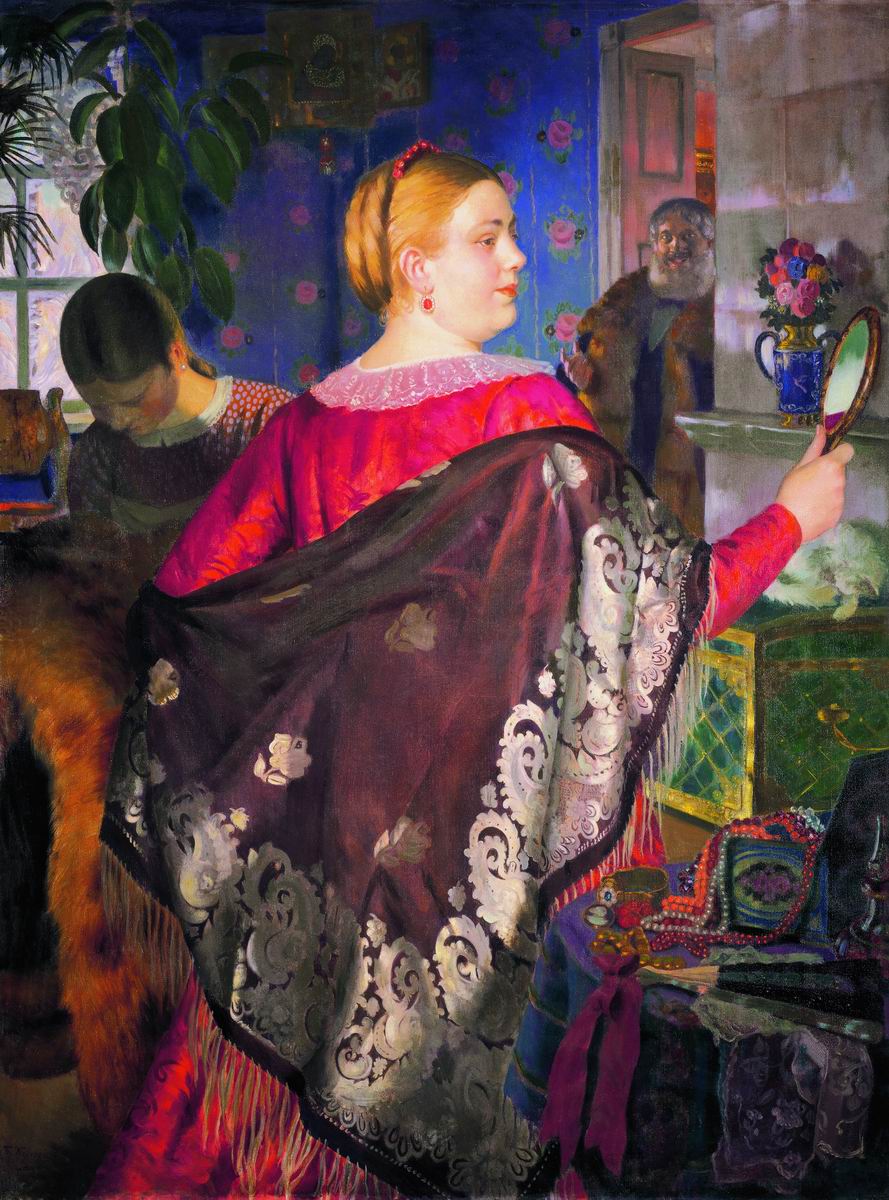 A Merchant In A Fur Coat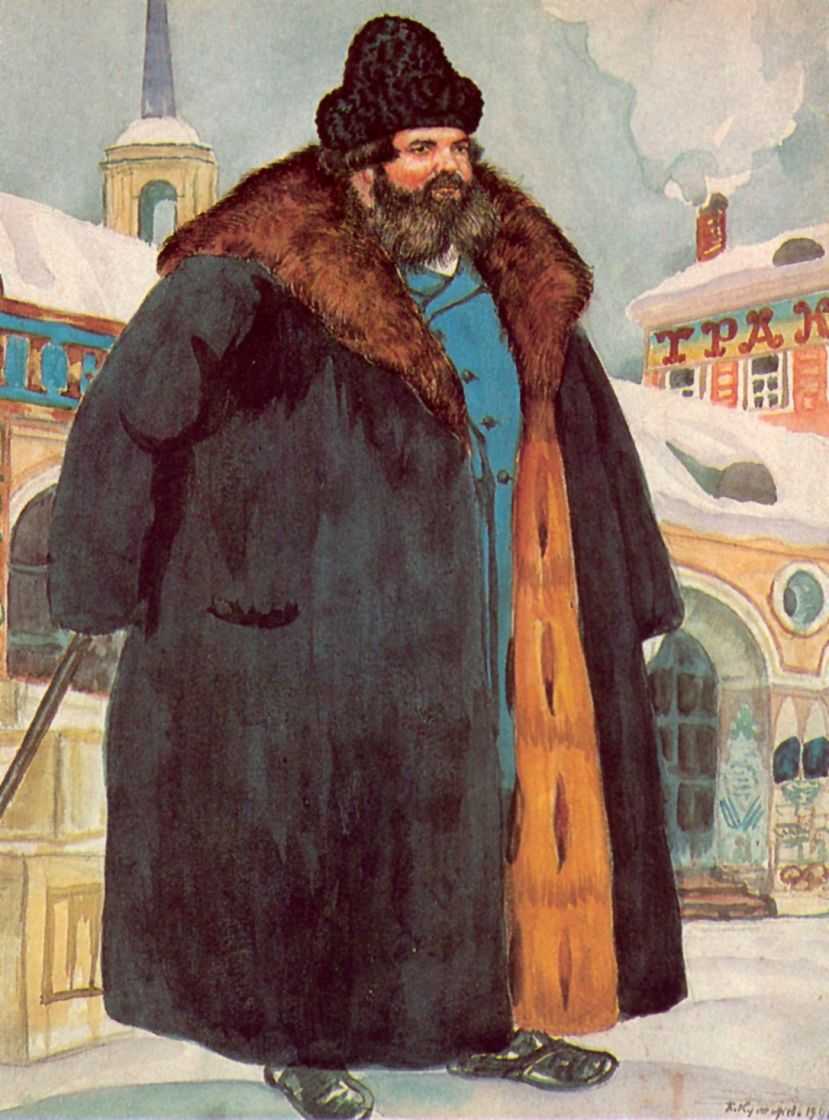 Shrovetide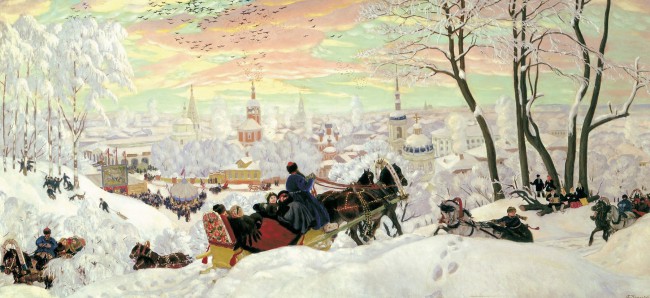 Moscow Tavern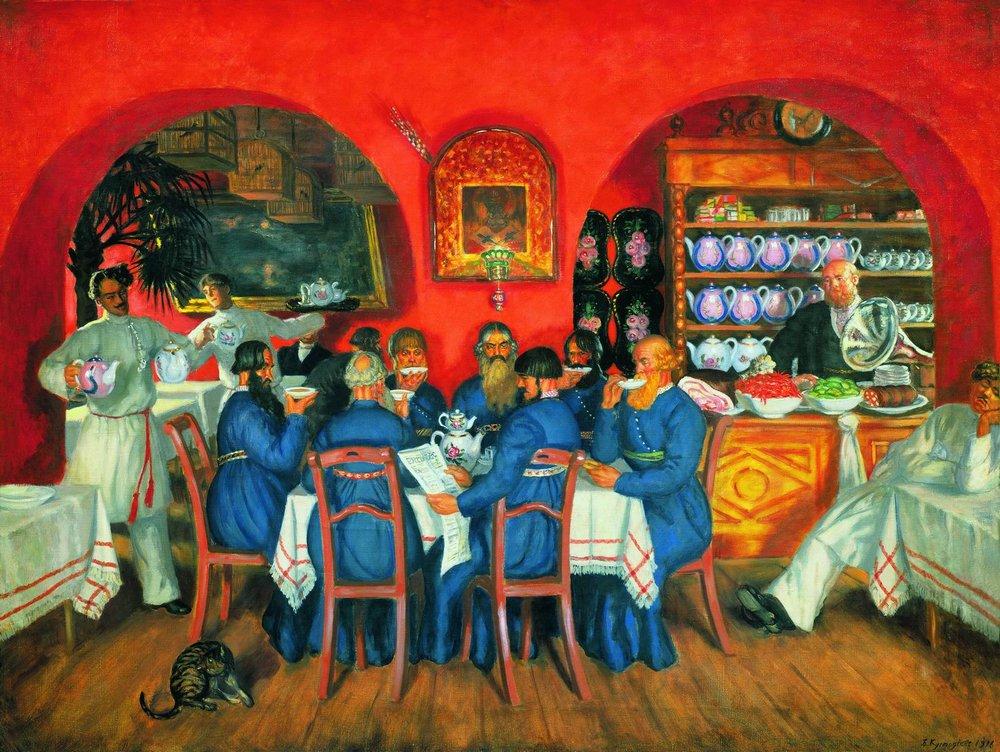 On The Terrace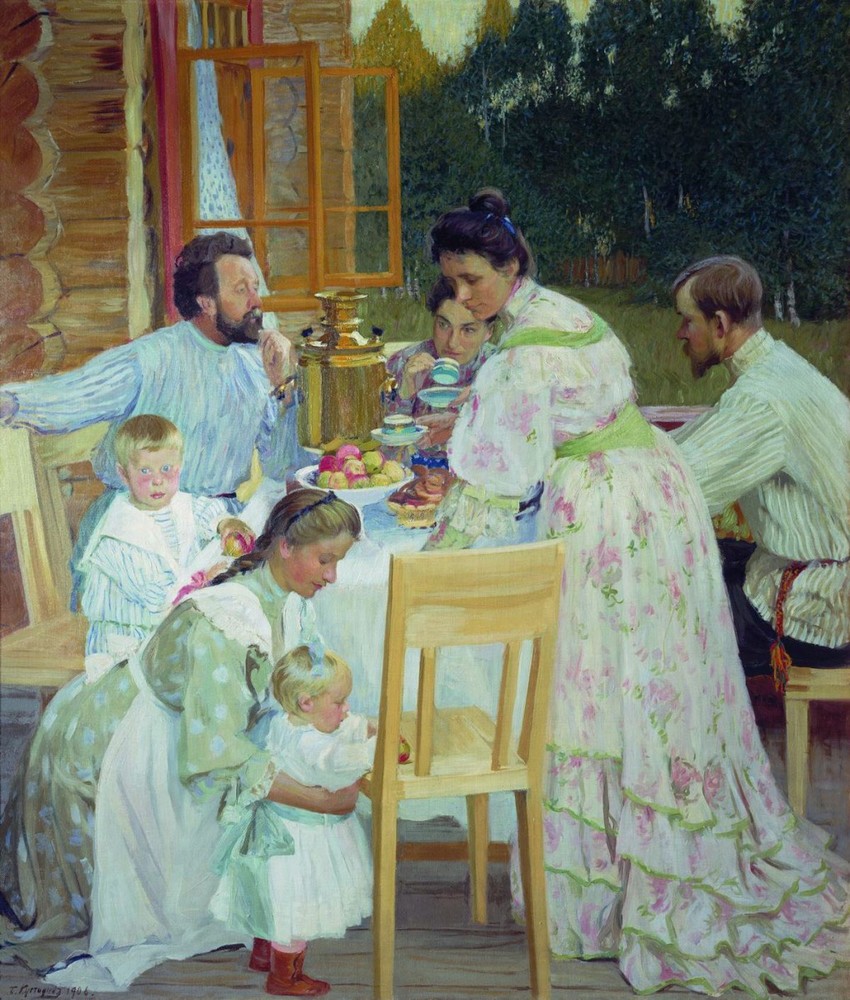 Portrait Of Chaliapin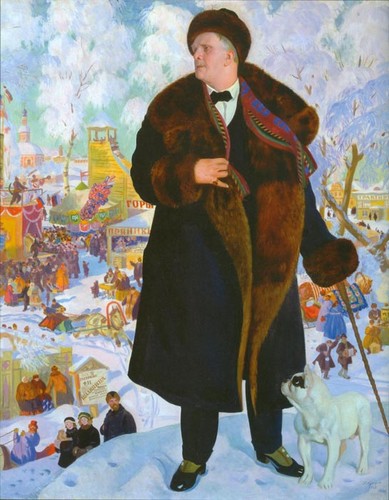 After The Thunderstorm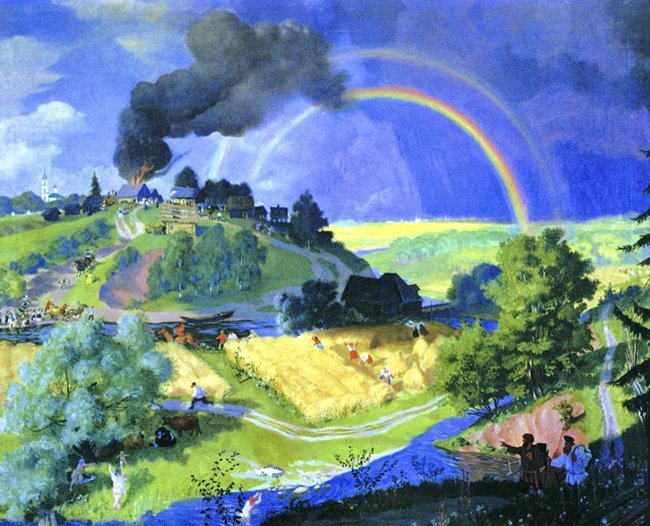 Volga. Rainbow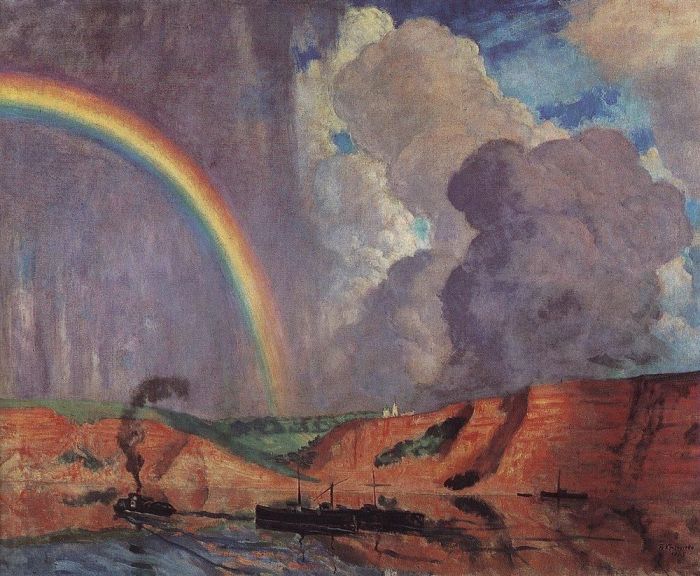 Trinity Day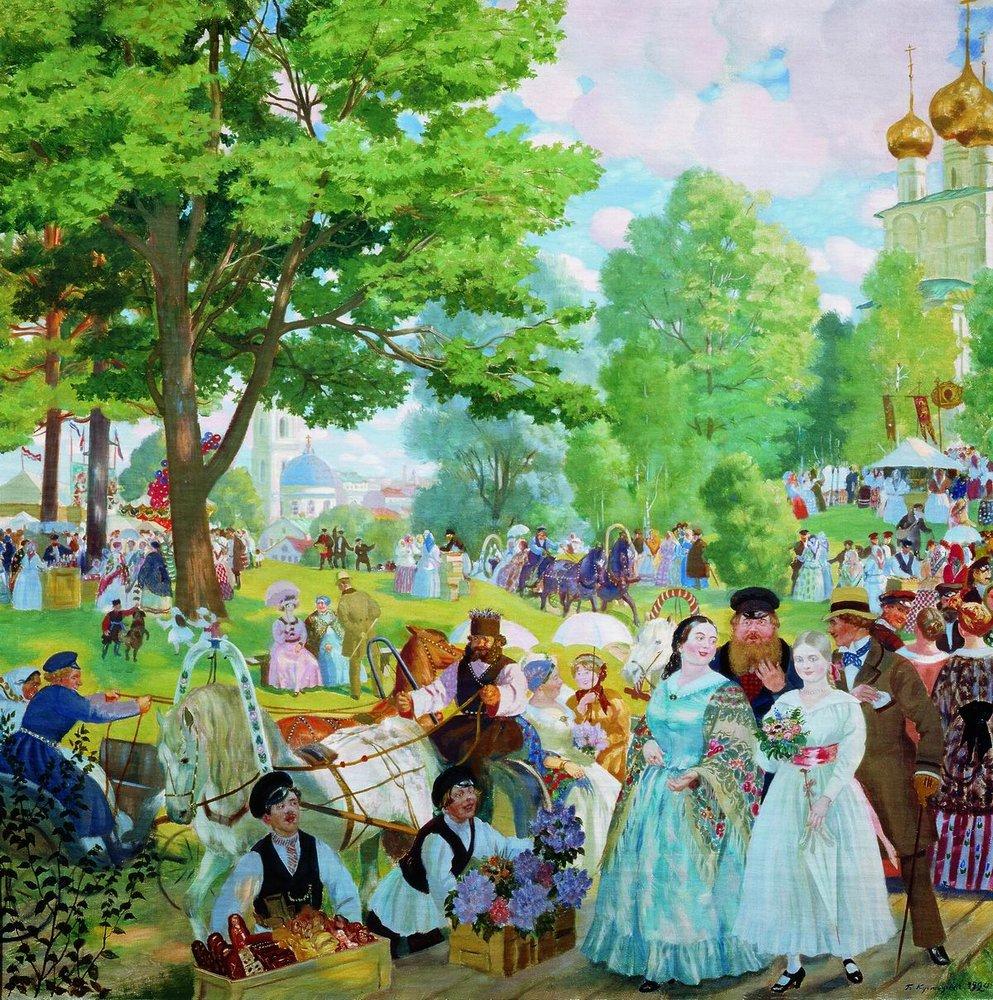 Zemstvo School In Moscow Russia