CHRIS BOOTH, b. 1949 Kerikeri
After studying at Ilam School of Fine Arts, Canterbury University, New Zealand in 1967 and 1968, Booth undertook two years of specialist sculpture study with such prominent sculptors as Barbara Hepworth, Denis Mitchell and John Milne in St Ives, UK, and Quinto Ghermandi in Verona, Italy.
Chris Booth works closely with the land, earth forms, and indigenous peoples of the region(s) where he creates sculpture. He has a profound interest in developing a creative language that involves communication and exchange between indigenous and colonial cultures and deeply meaningful environmental works.
He has participated in numerous land art projects and exhibitions internationally in the UK, Netherlands, France, Denmark, Italy, Germany, USA, Canada, Australia, Singapore and the Canary Islands. In 1982, Booth was the recipient of the Frances Hodgkins Fellowship, University of Otago.
For more information and to see examples of Booth's sculptures, visit his website.
To commission a sculpture, email direct.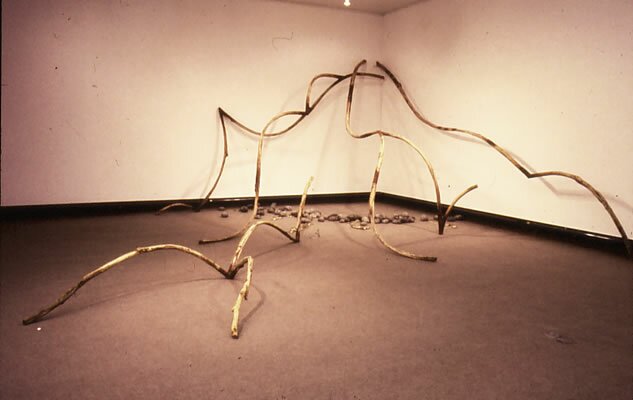 LINKS
Headlands Sculpture on the Gulf 2017 – video of Chris Booth
Interview with Chris Booth, RNZ, December 2016
'Booth Boulders Rock', by Richard Edmondson, Stuff, 2009 – on 'Stone Towers'
greenmuseum.org (online museum for environmental art) page on Booth
Image of 'Schist Strata' (1999) at The Hills, Arrowtown
Connells Bay website featuring Chris Booth – with scrolling images
NZonscreen – Part 1 of documentary on Chris Booth's memorial sculpture to the Rainbow Warrior
Booth's 2.8m high 'Peacemaker' sculpture, Wellington Sculpture Trust website
'Chris Booth's Nga Tamariki a Tane', by Malcolm Ross, Art New Zealand 30, Autumn 1984